Perfectionism is a common-to-man temptation. The wonderful news is that God wants us to live in freedom. Being Perfect will never satisfy.
Why Being Perfect Will Never Satisfy- Learning to Embrace Imperfection
"Do everything without grumbling or arguing, so that you may become blameless and pure, "children of God without fault in a warped and crooked generation." Then you will shine among them like stars in the sky." Philippians 2:14-15 (NIV)
Cooking for my family reminds me of watching a dinner challenge competition on television. My refrigerator is my basket full of unusual food items that I must pair together to create a nutrient-rich, delicious meal.
I arm myself with my favorite three S's – sweat, spices, and sweet love and get to work.
Even with my secret ingredients in hand, dinner will routinely fall short of my judges', I mean my kids', expectations. As much as I wish, not every day leans toward winning the first-place prize of oohs and aahs.
I have countless days when my desire to cook is subpar.
I go through the motions of adding in my hidden elements to construct the perfect meal that my family would agree on as "only okay."
Missing the mark of joy! I've found my lack of creativity in the kitchen spilling into other areas of my life that have gone stale or uninspiring – like my morning routine with Jesus.
The Get It Done Attitude
I do because I must do it out of obedience to God. Just as I cook to fill my family's belly, my attitude of just "getting it done" shortchanges the quality of my food, the way I view myself, and my heart for the Lord.
Imperfection rings true the moment I step out of bed and onto my grey plush carpet.
I awake to compete with a standard I have constructed in my mind "Today, is going to be perfect". And no matter the available ingredients and my passion, I will, on my best of days, fall short.
Speaking words of affirmation I would never repeat to anyone else.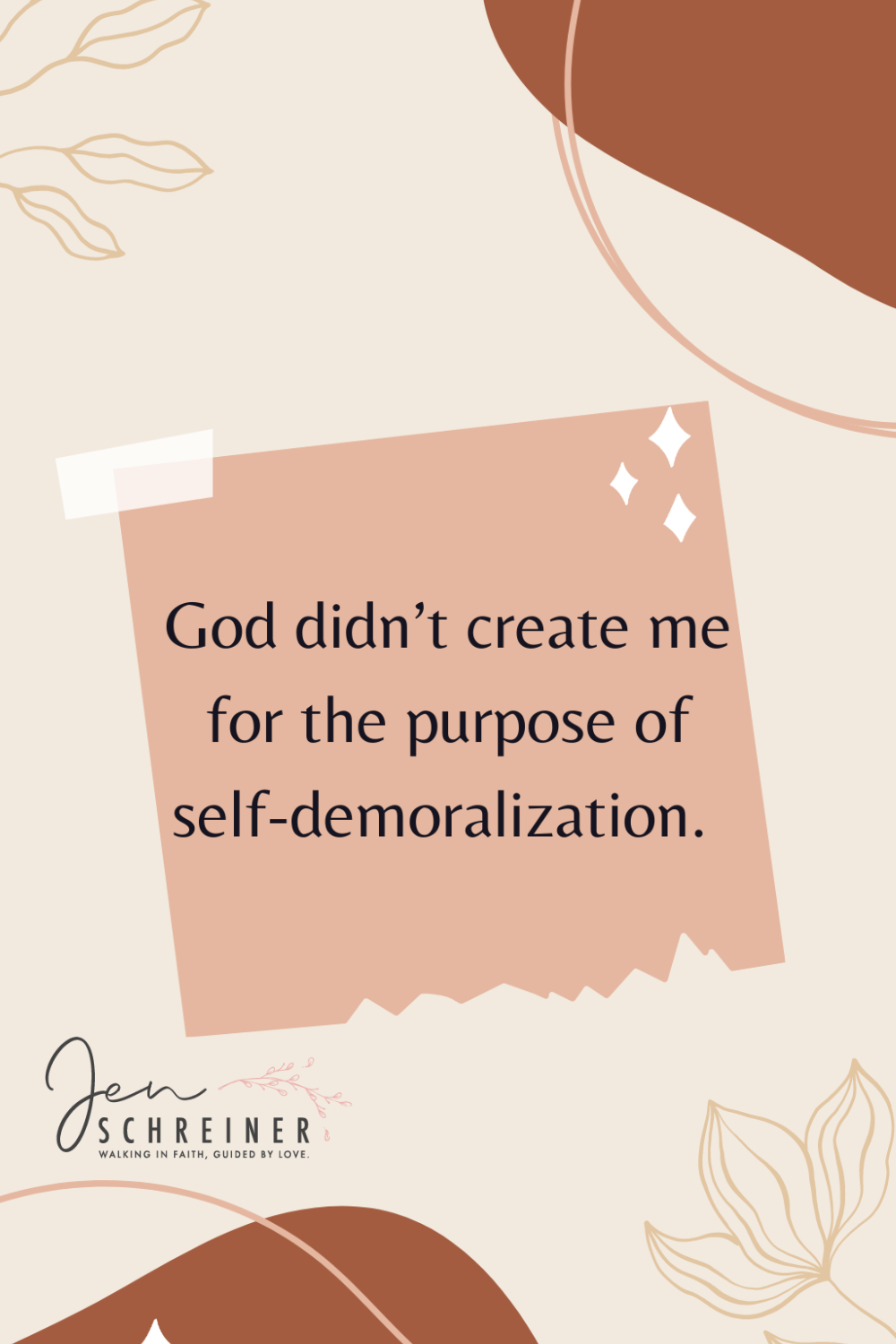 God didn't create me for the purpose of self-demoralization.
Let's repeat this phrase together – God didn't create me for the purpose of self-demoralization.
In His big beautiful basket of precisely the right amount of ingredients lies the perfect amount of hydrogen, oxygen, nitrogen, carbon, calcium, and phosphorus.
The combination of these six elements gives structure to my uniqueness. But somehow I miss the beauty in God's creation and instead, pick apart my time in "not doing enough."
Though my kids are bold, I could never speak up and tell God He made an error in creating me.
Yet, I do it so nonchalantly, instead of living contently.
Just as my kids often dislike my recipe choice for dinner, we often reject God's objective of who He says we are and replace it with our subjective views. Then we grumble and gripe.
For it is by grace you have been saved, through faith—and this is not from yourselves, it is the gift of God— not by works, so that no one can boast.

Ephesians 2:8-9 (NIV)
How do we keep our eyes locked on the author of our faith, even when our faith is faltering?
God fashioned us in His image for a purpose. He created you and me and our sisters and brothers in Christ. Every imperfect ingredient we see is His prescribed blessing.
God gave us every seed-bearing plant for physical nourishment and His word for spiritual nourishment. To renew and refine our minds, we must freely and intentionally reject negative self-evaluations.
It is a practice. When we shift our perspective from achieving perfection to being satisfied with our imperfections, we begin to see God's spirit evident in our lives.
Let's Pray Together
Dear Heavenly Father,
Thank you for reminding us that we have been made complete in You. Forgive us for speaking idle words against ourselves and the body you created in your image. We know that being perfect will never satisfy. Cleanse our hearts and renew our stale minds as we press into your presence. Lord, we ask for discernment to recognize when we replace your words with our contradictory and demoralizing thoughts. Help us to be content and find joy with our imperfections, knowing the truth of your word says we have been created as your masterpieces.
Thank you for loving us, for we know your mercies are new every day.
All this we ask in your precious and Holy name, Jesus. – Amen!
Read More on Jen Schreiner