Facing times of uncertainty can be scary. Take encouragement from the truth of His word that God is always with you. Read these Bible Scriptures for when you are facing fear.
Bible Scriptures for Fear – Encouraging Promises From The Gospel
(Scroll to the bottom for Scriptures on Fear)
Imagine running down the shoreline of the beach to test the soft waves of the sea with the tips of your toes. What thoughts come to mind? — the joy of swimming with your family, the wonders of God's creation, or the captivating sounds of the waves.
You look up to visualize the sailboats, the paddle boarders, the families playing in the waves. Never to worry about being swallowed by a mammoth fish. You instinctively feel comfortable and secure about testing the waters. Nothing led you to believe any differently.
Life as we know it
Life is a constant action for or against the waves. One wave can lead us to do great things for God, another may scare us by its grandeur. We take one look and say "WOAH!, nope. Not today." And we find ourselves running in the other direction.
We can either choose to walk fearlessly into the water or to nervously walk away. – Jen Schreiner
What are you running from?
If God told you to GO! What would you do? As a good Christian, I think I would like to say I would say; "YES, Lord I am on it".
But that is not the truth. There have been many times when God has told me to move and I just sat there arguing with him. "No, I can't possibly go pray with that woman. I don't know her. What if she thinks I am a weirdo. AND what if she is not a Christian and she just pushes me away". Then I think; "my goodness, I can't put myself out there and be embarrassed."
I just forgot the BIGGEST truth. When God is calling us to move, we are not walking by ourselves. He is the one leading.
"The heart of man plans his way, but the Lord establishes his steps." –Proverbs 16:9
After many argumentative moments with the Lord. I finally moved. I went over to that woman on a mission to pray with her. In the back of my mind, I still questioned God, but I obediently moved (even after acting like a teenager).
We can decide to believe the enemy or we can believe in God
I approached her and whispered in her ear. "Excuse me, but do you need prayers today?" What happened next was something that amazed me as much as her. She began crying, and not just a little sob, but an ugly cry. She fell into my arms and quietly said; "yes". I never asked what she needed prayers for. I just began praying over her.
At that moment God paused the universe to be present in both our lives.
He showed up saying to this woman, "I am here, I may not be able to be physically present, but I am sending someone over who can be". "You are loved my child, I am walking with you. You are not alone"
He showed me that obedience in Him is moving when He says so. And that despite my arguing, He knows best. To trust in Him means we must also trust in His perfect process.
And after I prayed with her, she took a few minutes praying with me. She thanked me for being obedient to God's voice. When she said those words, I almost fell backwards. But under my breath, I too prayed and apologized for my stubbornness to listen.
"Trust in the Lord with all your heart, and do not lean on your own understanding. In all your ways acknowledge him, and he will make straight your paths." – Proverbs 3:5-6
How God can use you?
My dearest friend, we should all be willing to be alert and present. Persistently praying, listening for God's voice, and following the guidance of our Jehovah-Jireh. We should all be saying; "YES, Lord I am on it".
"Whatever He (Jesus) tells you to do, do it" – John 2:5
By being obedient and listening to the Lord, our relationship with Him will only grow closer. The truth of His voice can only be heard by His followers (John 18:37)
When we don't listen
Jonah, a great prophet of the Lord, never thought twice about God's intentions either, until a certain day arose. Having a good reputation for listening. God told him; "Go to the great city of Nineveh and preach against it, because its wickedness has come up before me." – Jonah 1:1
He knew in his heart that the people of Nineveh were evil and wicked. Living against God's intentions. Jonah knew his assignment, his task, and his mission from God.
He instead panicked. Quickly gaining access to a ticket in Joppa to sail with strangers on a boat to escape God's instructions of traveling to Nineveh (Jonah 1:3). Just the thought of his sheer craziness. He ran in the farthest opposite direction he could. He instinctively felt comfortable and secure about his decision too.
God will go to great lengths to get the attention of His children.
God was very clear in scripture and told Jonah; "Go to Nineveh". Instead of being obedient, he ran. However, God had great plans in store for the people of Ninevah. He never gave up on them. He knew that it would take Jonah some extra time. That is why Jonah found himself floating in a bunch of vomit in the belly of a big fish.
After 3 days of praying to God from inside of that fish, Jonah was spat out. He realized what he did was wrong. God Spoke again. This time he followed, and many lives were changed (continue reading from the book of Jonah).
What we know is hesitation is birthed from Fear.
Fear is a resistance to move forward due to a past, present, or future worry. Satan's biggest marketing gimmick is fear. It can direct us onto a path of disobedience.
It is the greatest of all distractions, fueled by Satan. Inhibiting us from God's glorious plan for our lives. It stops us in our tracks, makes us become different people. It can paralyze us, shift our moods, and become a captor of our thoughts.
When fear jumps into our lives, it can present its ugly head easily, distracting us. Decisions or occurrences, we believe that will harm us, get pushed away. We then follow the easy road to happiness. Filling our bucket of Joy with superficial items or tasks that keep our minds occupied. Ignoring the path that God initially intended for us.
Moving forward means that we are no longer allowing fear to control us.
Let us pray
Dear Heavenly Father, We thank you for your everlasting love and your commitment to never leading us astray. God, we know we are not alone in this battle against fear. Please open our eyes and our heart to hearing your voice. Stir a passion in our hearts to grow closer to you. Let us always remember that you are the one leading us. In your name we pray – Amen.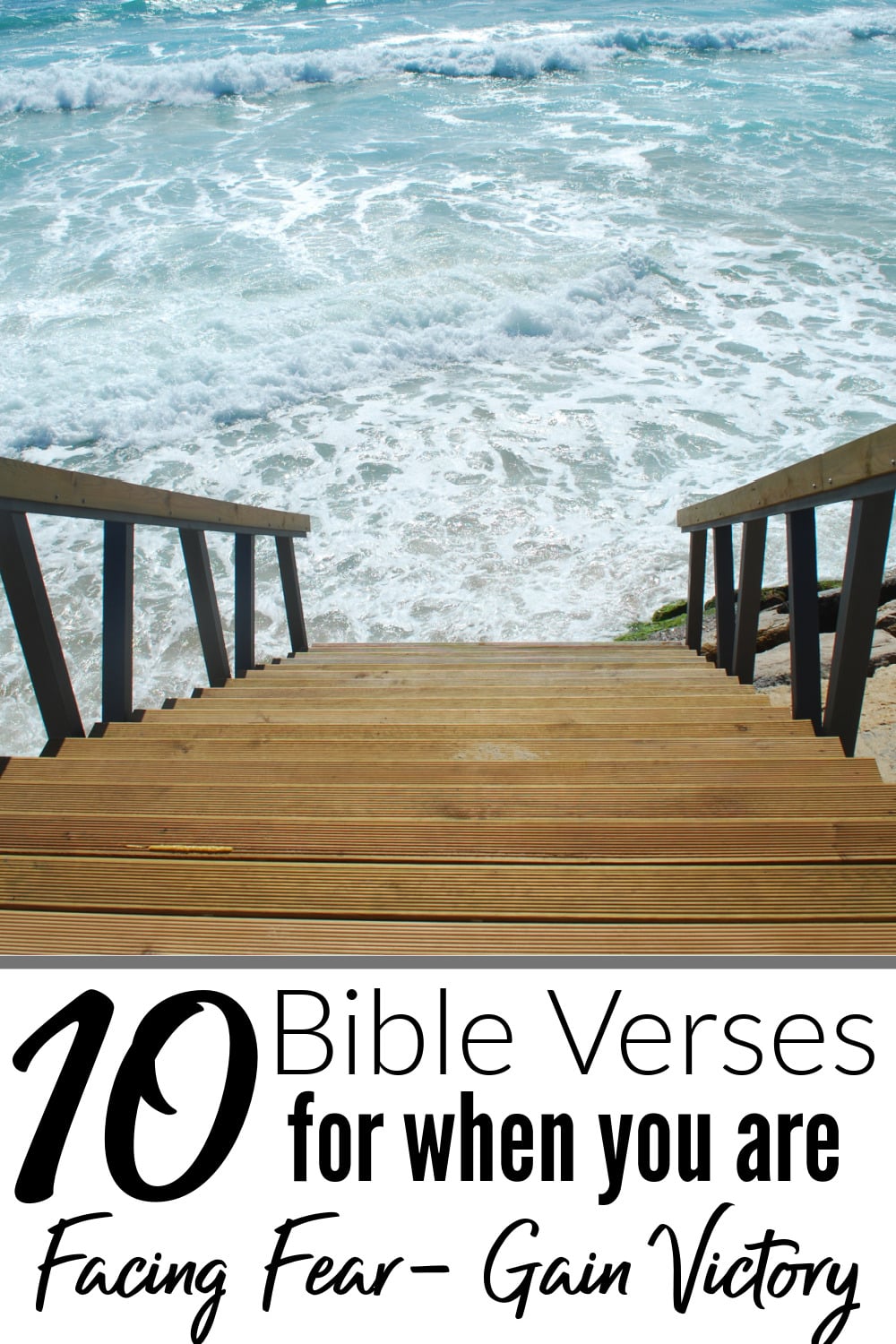 10 Bible Scriptures for Fear
"Be strong and courageous. Do not be afraid or terrified because of them, for the Lord your God goes with you; he will never leave you nor forsake you." – Deuteronomy 31:6
"The Lord is my light and my salvation – whom shall I fear? The Lord is the stronghold of my life – of whom shall I be afraid?" – Psalms 27:1
"The Lord is with me; I will not be afraid. What can mere mortals do to me?" – Psalms 118:6
"Have no fear of sudden disaster or of the ruin that overtakes the wicked, for the Lord will be at your side and will keep your foot from being snared." – Proverbs 3:25 – 26
"'For I am the Lord, your God, who takes hold of your right hand and says to you, Do not fear; I will help you. Do not be afraid, for I myself will help you,' declares the Lord, your Redeemer, the Holy One of Israel."– Isaiah 41:13-14
"The fear of man brings a snare, but whoever trusts in the Lord shall be safe." – Proverbs 29:25
"Cast your cares on the Lord and he will sustain you; he will never let the righteous fall." – Psalms 55:22
"But even if you suffer for doing what is right, God will reward you for it. So don't worry or be afraid of their threats." – 1 Peter 3:14
"Do not be anxious about anything, but in every situation, by prayer and petition, with thanksgiving, present your requests to God. And the peace of God, which transcends all understanding, will guard your hearts and your minds in Christ Jesus." – Philippians 4:6-7
"For God has not given us a spirit of fear, but of power and of love and of a sound mind." – 2 Timothy 1:7
Do you have bible scriptures for Fear that has helped you? We would love to know. Leave us a comment below.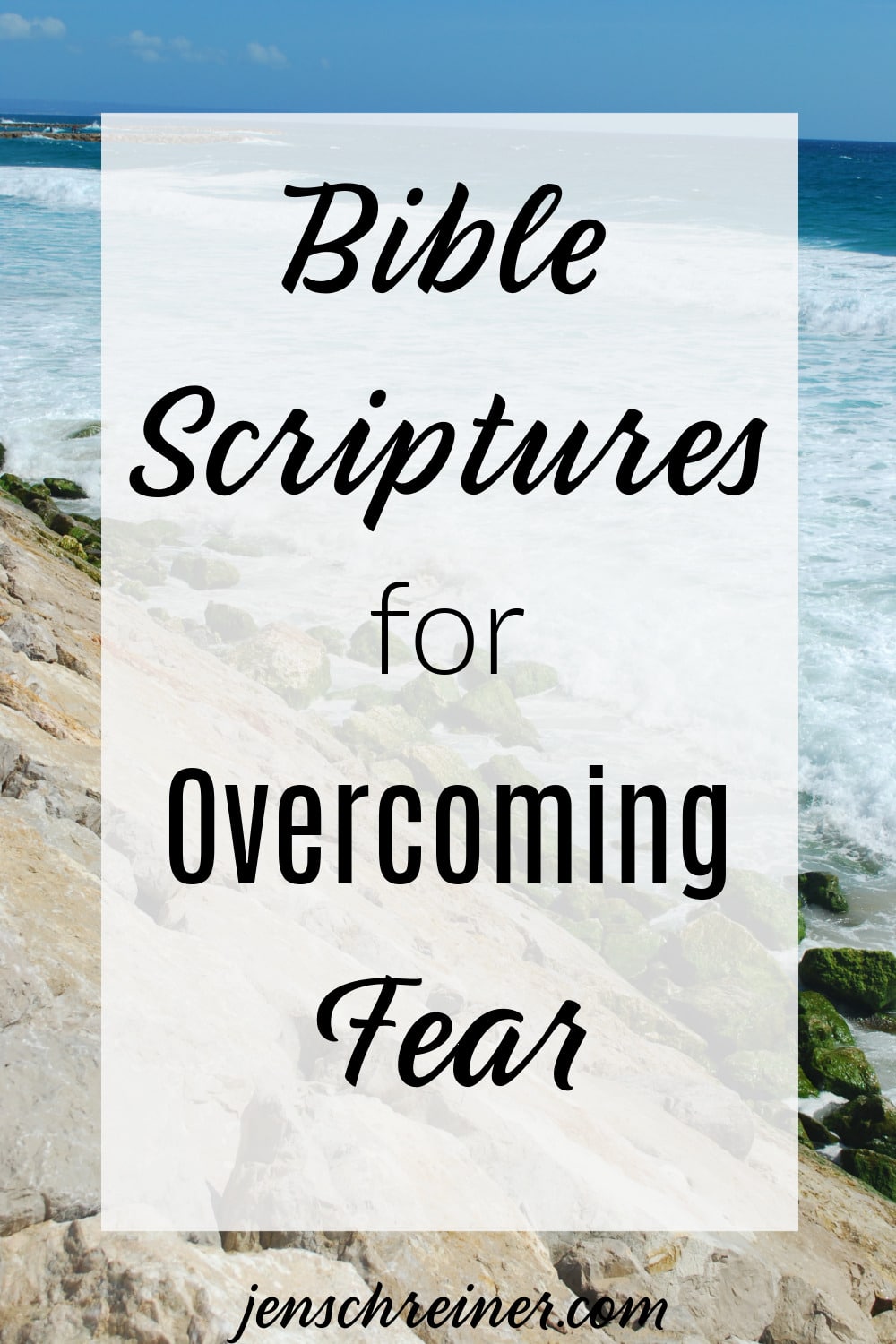 Read More on Jen Schreiner