When confusion and doubt strike, seeking encouragement can regain your strength in Christ. Read these Bible Scriptures for faith.
Bible Scriptures for Faith – Hope for the Future
(Scroll to the bottom for Scriptures on Faith)
"Now faith is confidence in what we hope for and assurance about what we do not see" – Hebrews 11:1
Excitement, joy, and an abundance of clean trash talk — the backbone to our family fun. Now it isn't about being the best to take first place, but to increase the silliness of any family activity.
My son comes up with some really good ones. I like to think he got schooled by me. But his comedy all stems from one-liner Chuck Norris "facts".
"I once dug a hole with a spoon. Also known as the Grand Canyon"
When we vacation in Maine, we amp up the relaxation mode with a family competition. All week long we compete for the "bass master" trophy. Think of a quiet week by the lake, turned up by heated discussions about how to catch the big one (with Chuck Norris one-liners). Sometimes I wonder if we are just scaring the fish away with all our loud nonsense.
Trying always to get ahead of the competition (Always), they set their alarm to wake up early. Running to grab their fishing poles to fish off the dock. Disappointment crosses their face when they meet up with my father-in-law. "The early bird catches the worm first." He says. But they all laugh and end up having a great time together.
God's Mighty Works
Evenings occur at a much slower pace. The loons are settling in; the ducks are arriving for their last meal and the sky transforms from light blue to an array of brilliant pink and orange colors. Our creator made no mistakes. I spend many moments thanking Him and basking in His visible splendors.
"Great are the works of the Lord; they are pondered by all who delight in them. Glorious and majestic are his deeds, and his righteousness endures forever. He has caused his wonders to be remembered; the Lord is gracious and compassionate". – Psalm 111:3
As the sun sets, we move on to fishing from the rowboat. The largemouth bass like to camouflage themselves in the shadows of the waterlilies.
A professional angler would tell you; "that bass like to gravitate to the waterlilies, but be mindful of areas with irregularities. These tracks or irregularities offer a better point of ambush."
As we approach the waterlilies, we are fully aware and excited about fishing for a BIG bass. We look for the irregularities and cast our lines out. We do not see, but we believe that there will be a great opportunity for winning the trophy.
Our Walk With Christ
Just like our walk with Christ. Excitement and wonder of God's greater plan for our lives keeps us grounded. We are always believing, but not yet fully understanding the work that God has in store for us. We take pleasure in knowing that He has our very best interest in mind.
And yet, we fail every day. Falling short of His glory. Questioning His motives and complaining about such trials. We are but human. Forgetting easily that it is in these times, He is preparing us for the next chapter. We wait. Romans 5: 1-5 Building our character. His timing is ALWAYS perfect.
The Deception that Lies
Just as the waterlilies camouflage the location of the swimming bass, Satan too likes to deceive us. Like a roaring lion trying to catch its prey, Satan stands waiting. Speaking lies into our mind, creating mistruths about what we see, pressing us to become anxious or worried.
Satan's goal is simple. To keep you and me from completing God's great plan for our lives. Satan loves confusion (he is the master of confusion). Satan is evil to the core. Satan will implore you to believe that you are in control of our own destiny, that your faith is worthless, in fact, he will even have you questioning "Do I have enough faith in God to be good?"
We must never underestimate Satan's power. And never underestimate his ability to deceive us.
"And no wonder, for Satan himself masquerades as an angel of light.." – 2 Corinthians 11:14
Therefore, it is important for all Christ-followers to stand equipped. Taking up the Armour of God (Ephesians 6:13). Every day preparing our minds for battle.
A Prayer for your Heart
Dear Heavenly Father, We thank you that you are the alpha and omega; never changing and always loving. We thank you for the many blessing that you provide us. May we be reminded of them. Help us to find the beauty in each day. We pray and ask that you help us better prepare for the daily challenges we face. Equipping us with your word. Let us always remember to seek you first. In your precious name we pray – Amen.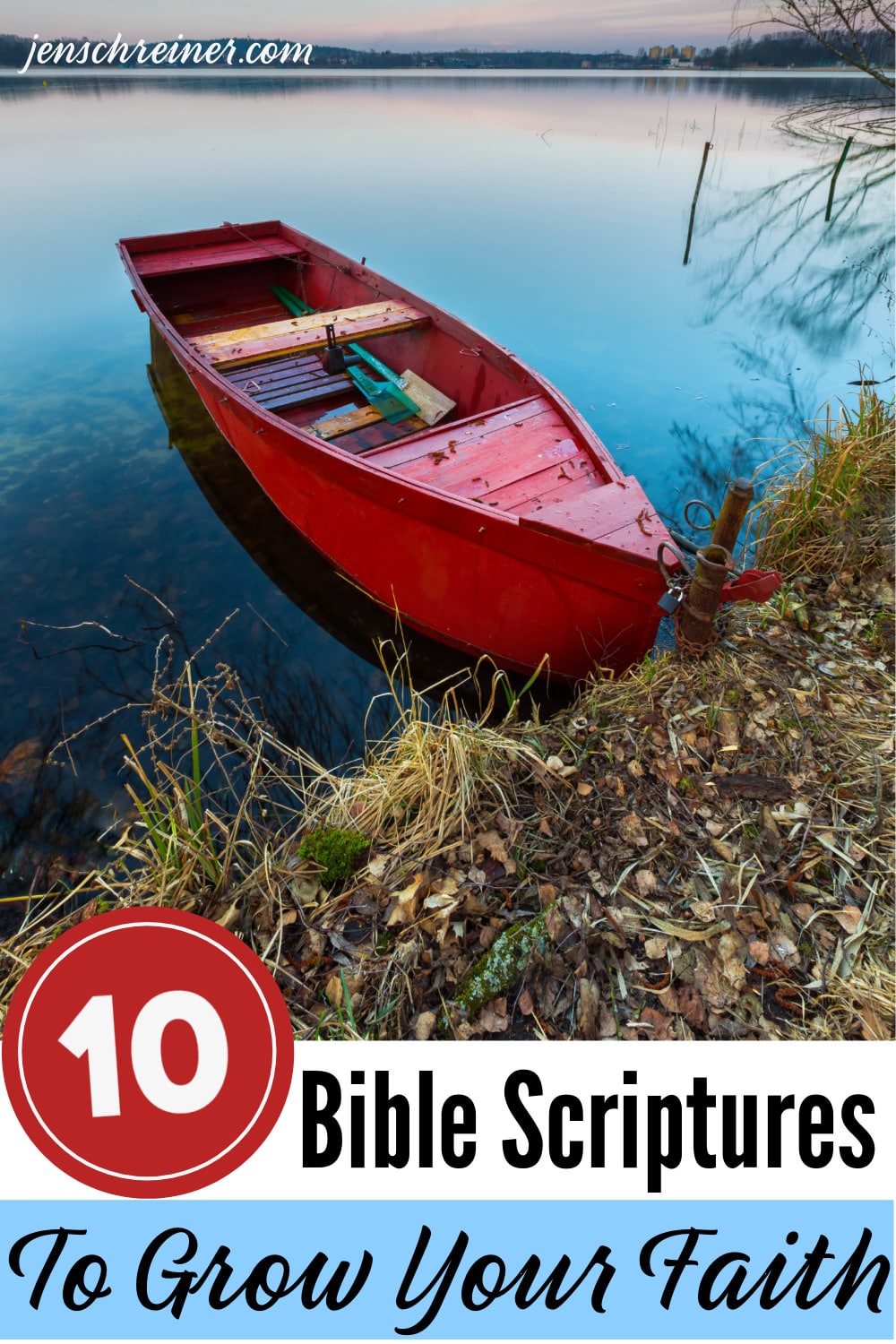 10 Bible Scriptures for Faith
"Whoever believes in me, as Scripture has said, rivers of living water will flow from within them." – John 7:38
"Therefore I tell you, whatever you ask for in prayer, believe that you have received it, and it will be yours." – Mark 11-24
"Trust in the Lord with all your heart, and do not lean on your own understanding. In all your ways acknowledge him, and he will make straight your paths." – Proverbs 3:5-6
"Jesus said to him, 'If you can believe? All things are possible for one who believes." – Mark 9-23
"For by grace you have been saved through faith. And this is not your own doing; it is the gift of God, not a result of works, so that no one may boast." – Ephesians 2:8-9
"Jesus said to them, 'I am the bread of life; whoever comes to me shall not hunger, and whoever believes in me shall never thirst." – John 3:5
"For nothing will be impossible with God." – Luke 1:37
"Truly I tell you, if you have faith as small as a mustard seed, you can say to this mountain, 'Move from here to there,' and it will move. Nothing will be impossible for you." – Matthew 17-20
"For God so loved the world, that he gave his only Son, that whoever believes in him should not perish but have eternal life." – John 3:16
"For we walk by faith, not by sight." – 2 Corinthians 5:7
Do you have bible scriptures for Faith that has helped you? We would love to know. Leave us a comment below.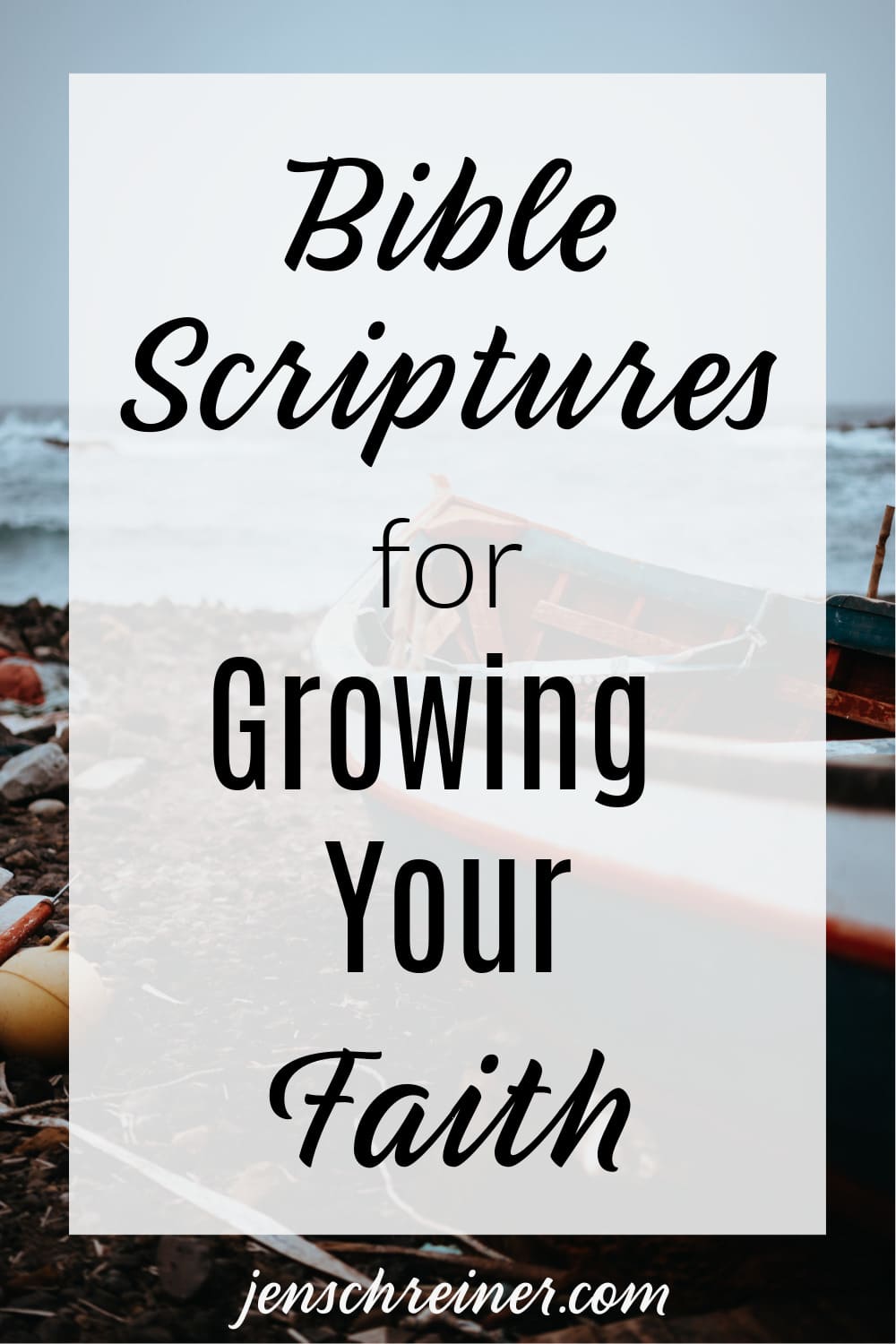 Read More on Jen Schreiner